SANCTUARY AESTHETICS IS THE OFFICIAL AESTHETICS SPONSOR OF
THE MISS KANSAS, MISSOURI AND NEBRASKA UNITED STATES PAGEANTS
SANCTUARY AESTHETICS, TRACY GUSTIN, OWNER/LICENSED AESTHETICIAN
www.sanctuarykc.com - 913.710.4040 - info@sanctuarykc.com
https://www.facebook.com/sanctuarykc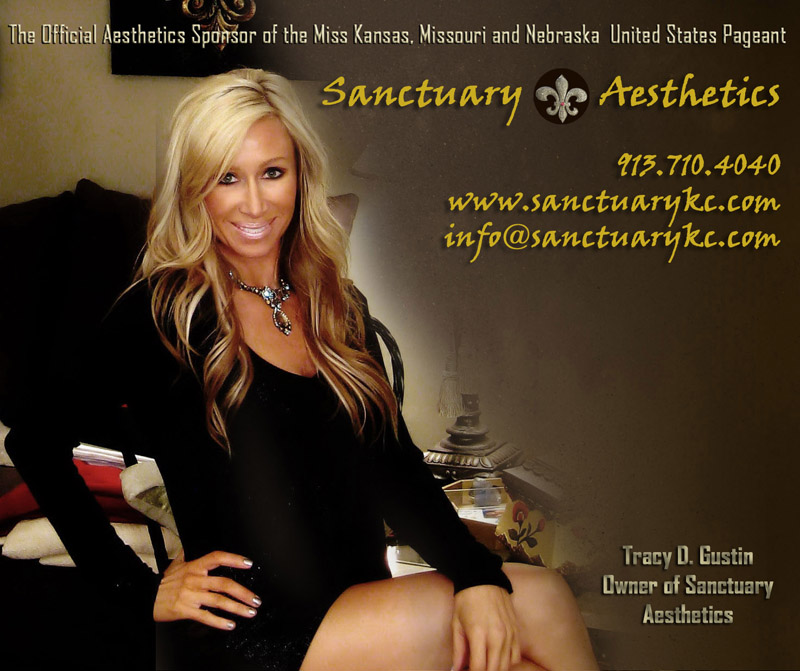 SEE BELOW FOR CLIENT BEFORE AND AFTER PHOTOS AND CLIENT TESTIMONIALS, FEEDBACK AND REVIEWS
NOW OFFERING MICRONEEDLING!
Call for information and pricing
SANCTUARY SPECIALS:
Choose any of the following THREE services and pay only $100
(ADD ADDITIONAL SERVICES and the price drops to $25 per treatment! Excludes Peels and Dermaplaning)
Choose FOUR for $125
Choose FIVE for $150
Choose SIX for $175
and so on......
Custom Clinical Facial: reg price $75
Microdermabrasion: reg price $50
Oxy Detox: reg price $75
Any PCA Chemical Peel: $50+
Dermaplane: reg price: $50
Pumpkin Peel: $50
PCA Treatment Masques: $25
Ultrasonic Treatment: reg price $45
Lip and Brow: reg price $25
LED/Ultrasonic: reg price $40 (add on for $25)
MicroCurrent Face Lifting Treatment:$65 (add on for $50)
Back Treatment: $100+
HydroPlus Dermal Infusion $150
THIS TREATMENT INCLUDES: Microdermabrasion, and LED Phototherapy or Oxy Detox. 

The HydroPlus Dermal Infusion is a rejuvenating treatment that combines exfoliation, plus infusion, plus serums to equal the HydroPlus. And, unlike other rejuvenation treatments that are the same for everyone, HydroPlus is tailored to individual skincare needs and concerns. During HydroPlus treatment, specially formulated serums are infused into the skin as it is gently exfoliated, promoting the growth of new cells and nourishing the skin for continued improvement.
BENEFITS:
Rejuvenates sun damaged skin – face, neck, shoulders, back, arms and legs
Reduces age spots
Minimizes blotchy skin coloring
Reduces acne and superficial scars from past injury
Extracts blackheads and whiteheads
Helps balance out Oily Skin
Improve overall skin health
Results are visible after a single treatment
Besides subtly enhancing the skin's outside appearance, HydroPlus also promotes the production of new collagen – a protein in the skin re
ASK ABOUT THE MONTHLY CLIENT LOYATLY RATE - BOOK MONTHLY AND RECEIVE AN EXTRA TREATMENT FOR FREE WHEN YOU SPEND $100 OR MORE
MICRONEEDLING -
MICRODERMABRASION - A mechanical exfoliation that removes dead skin, reduces find lines & wrinkles, acne scarring, sun damage, dark spots, and enlarged pores. It stimulates collagen production and increases circulation, revealing healther, smoother, softer looking skin. $50
PCA SKIN CHEMICAL PEELS - These are a powerful way to turn back the clock of time. With "no down time", these peels clear acne, minimize fine lines & wrinkles, minimize pore size, fade hyperpigmentation and sun damage, alleviate rosace, tighten, lighten and brighten your skin, leaving you with younger looking, healthier, more radiant skin. At your consultation the appropriate peel will be selected for your skin's needs. $50+ (add on $25)
OXY DETOX - This antioxidant therapy corrects and prevents free radical damage, which causes aging in the skin. It stimulates cutaneous oxygenation and circulation, rejuvenating sluggish, stressed skin as it draws oxygen to the skin's surgace, resulting in radiant, glowing healthy skin. You will have a rosy, illuminating glow folling this treatment. It is a client favorit. $$75 (add on $25)
CUSTOM CLINICAL FACIAL - Tailored to fit your individual needs, anything from clogged pores and acne ( for teens and adults) to dehydration. This facial may include deep clairsonic cleansing, exfoliation, steam & extractions, custom PCA masque therapy, high frequency to keep skin clear and blemish free, opal sonic infusion and finishing products. This is the most thorough facial your skin can receive. You will be clean, clear and glowing. $75 (add on $50)
DERMAPLANING - A simple and safe procedure for exfoliating the surface and ridding the skin of fine vellus hair (peach fuzz). This hair often causes a build up of dirt and oil in the follicules, so removing the hair gives patients healthier looking skin. Dermaplaning is great for patients with rough, dry skin, superficial hyperpigmentation, mild acne scarring, fine lines and wrinkles, and pregnant or lactating women who are contraindicated for chemical peels. The result is a smoother, more refined, glowing appearance and allows for a more flawless complexion when makeup is applied. $50 (add on $25)
ACNE CLEARING BACK TREATMENT - This treatment combines, clarisonic cleansing, steam and exfoliation, microdermabrasion and spot treatment of acne and/or hyperpigmentation. $100
ULTRASONIC TREATMENT - The Ultrasonic Facial loosens dead skin cells, flushes out dirt that has become trapped in the pores. deeply penetrates serums, and tone and lift the face and increases collagen production helps to rejuvenate the muscles of the face. $45 (to add on with advanced serum pentration $25)
WAXING/TINTING/LASH LIFTING SERVICES
BROW DESIGN - $20 (add on $15)
BROW OR LASH TINT - $15
LIP WAX - $10
LIP & BROW - $25
CHIN, CHEEKS - $15
FACE - LIP, CHIN & CHEEKS - $45
UNDERARM - $25
FULL BACK - $50-$75
LASH TINT - $20
BROW TINT - $15
LASH & BROW TINT - $30
LASH LIFT - $80
Sanctuary Aesthetics Skin Care by PCA SKIN
There are many skin care products out there to choose from and it can be overwhelming.
Sanctuary Aesthetics has chosen the PCA line of skin care products. PCA SKIN's medical grade products incorporate the latest in medically and scientifically researched ingredients to nourish, hydrate, improve and rejuvenate skin, delivering optimal results. Free of color additives, synthetic fragrances, harsh alcohols, comedogenic oils an other known sensitizers, they are designed to deliver results without irritation and are especially effective for helping to treat such varied skin conditions as acne, hyperpigmentation, fine lines and wrinkles, sun damage, rosacea and psoriasis. PCA SKIN daily care products are available only through physicians and licensed medical professionals. PCA SKIN professional treatments may only be administered by professionals who have been certified by PCA SKIN. Certification requires the completion of an advanced Skin Biology & Chemical Peel Seminar. Continuing educati
on remains an integral part of PCA SKIN's mission to ensure that patients achieve the safest and most effective results from PCA SKIN daily care products and treatments.
SPECIALIZING IN:
Anti-Aging, Teenage Acne, Hyperpigmentation, Sun Damage, Adult Acne, Clogged Pores, Fine line and Wrinkles, Dehydrated and Mature Skin, Rosacea
HERE IS WHAT "60 MINUTES OF SKIN SERVICES" CAN DO FOR YOU
MANY ARE BEFORE AND (IMMEDIATELY) AFTER PHOTOS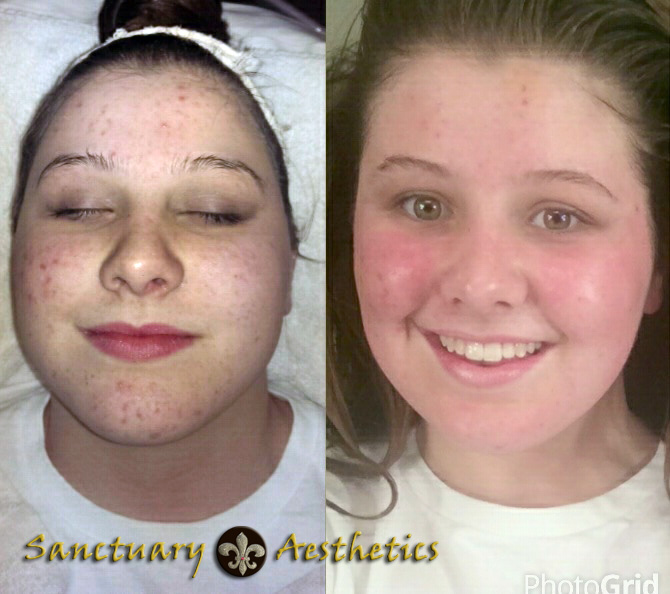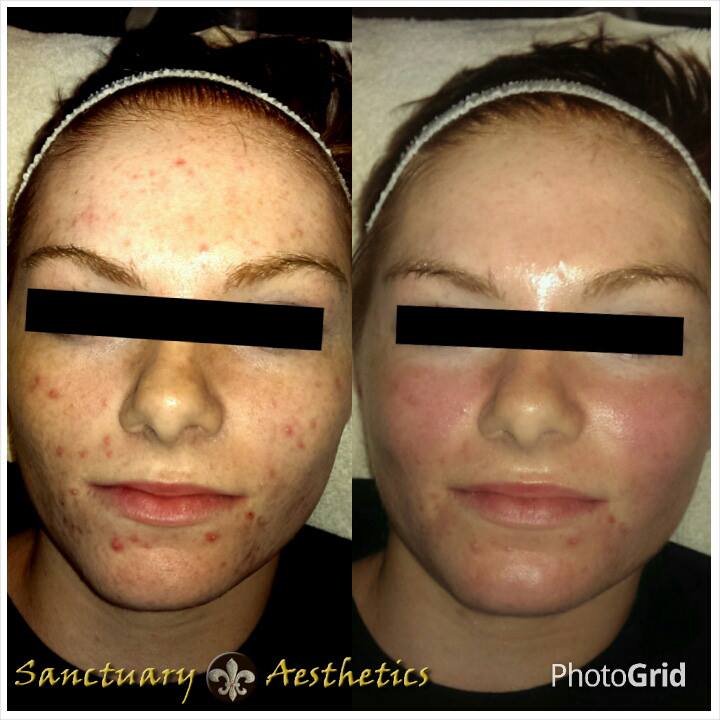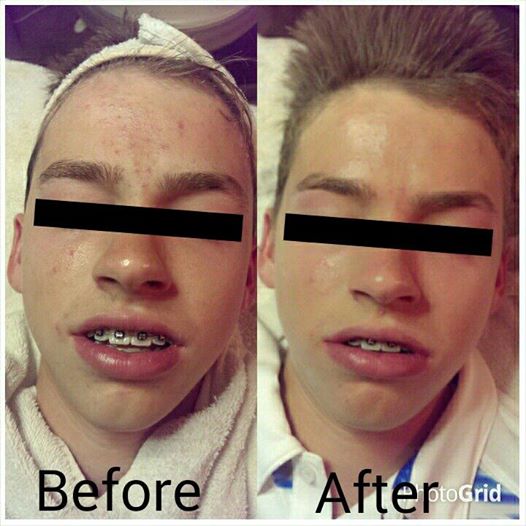 This client above had been struggling with chronic, acute acne for over a year. This before and after photo is from 2 Treatments in 2 weeks with me.
Tracy, I am so happy to have you take care of my skin. My face hasn't had anymore zits. I'm so in love with the End Zit. My scars got lighter(I have her using PCA Brightening Therapy with TrueTone). Now I can love my skin again.
~Davy K.
BROW SHAPING
BACK TREATMENT
ONE TREATMENT ABOVE
HAIR EXTENSIONS
MAKEUP BEFORE AND AFTER PHOTOS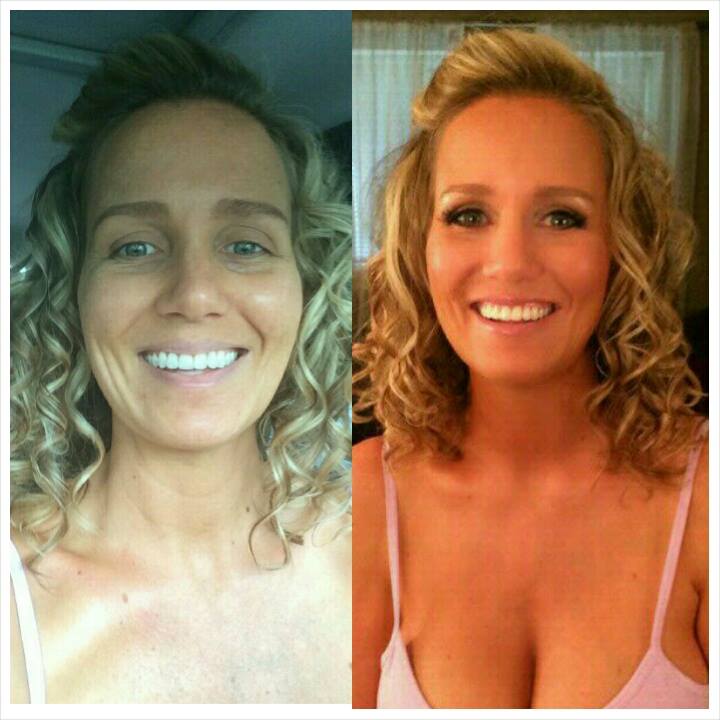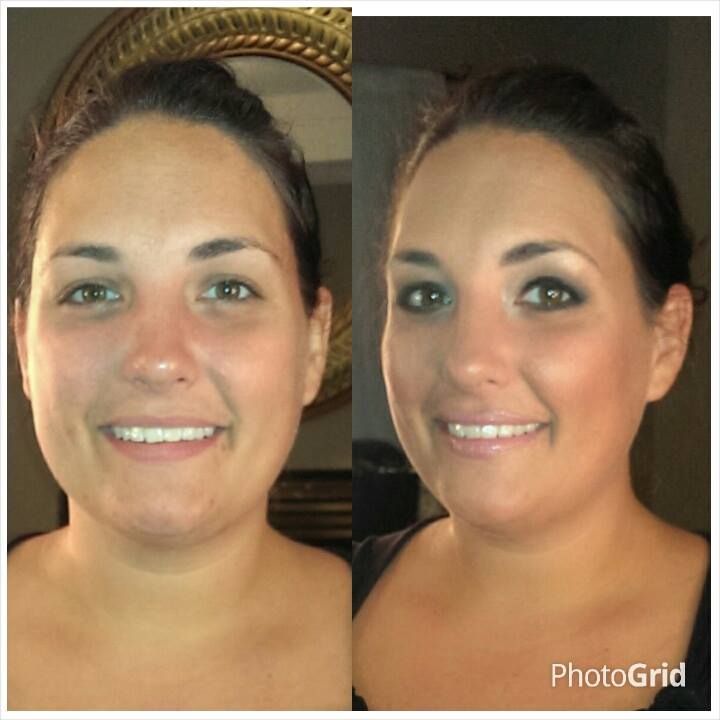 3
Prom makeup - To the most amazing, gifted person I have ever dealt with in regards to skin, makeup, hair.... Tracy you made my daughter feel like a princess. I cannot say enough. You are the best.
~ Kim Mathis
- CLIENT FEEDBACK, TESTIMONIALS & REVIEWS BELOW -
Tracy Gustin is one of the best teachers for makeup lessons! She not only shows you how to use the products that you have, but also refers you for products that she knows will definitely work for your skin. She helped me so much and I could really see improvement when back stage all of the girls were dying to know my makeup secrets! Her skin treatments are so amazing too! I feel like I'm glowing and my skin is so smooth and looks absolutely flawless! I would definitely recommend everyone to go to Tracy, especially if they are wanting to get friendly service with lots of results!
-Tobie Roberts Miss Kansas Teen United States 2013
To the most amazing, gifted person I have ever dealt with in regards to skin, makeup, hair.... Tracy you made my daughter feel like a princess. I cannot say enough. You are the best.
~ Kim Mathis
Last Saturday I had the pleasure of meeting Tracy Gustin, little did I know she would become an essential part of my preparation for Miss Teen United States! Not only is she a miracle worker when it comes to skin but she is such a fabulous and kind person as well! It was my first time having a skin treatment and even though I was extremely nervous she encouraged me and got me through it. Now I couldn't be any happier with my skin and I can not wait to bring everyone I know to her! If you want beautiful, radiant, glowing skin give Tracy a call she is the only person I would trust my skin to!
Thank you so much!
-Megan Renee Kelly, Miss Teen MO United States 2013
Tracy,
I am so happy to have you take care of my skin. My face hasn't had anymore zits. I'm so in love with the End Zit. My scars got lighter(I have her using PCA Brightening Therapy with TrueTone). Now I can love my skin again.
~Davy K.
Here is a testimonial from a client who brings her teenage daughter to me.
Tracy - We had tried many things to clear up Kati's acne over the last two years with little success, but one session with you saw tremendous improvement! The additional changes in her skin over the last few months have been amazing!! Kati's skin is so much clearer and she has a better routine for taking care of it. Thanks so much for making these teenage years more bearable!
- Kristi Gribble
Just received an incredible treatment, thank you Tracy!
Tracy is not only an excellent aesthetician and expert in skin care, every single treatment is specialized and individualized -not "one size fits all". The results are visible immediately and give me that fresh, well slept glowing look before my appearances. One of my favorite things about her is she treats every client as a friend, making everyone feel so comfortable. And you will love her spa! It's beautiful, you can feel the serenity as soon as you walk in.
Book an appointment with her, you deserve it!
~ Holly Starr
I am 16 years old, and I have struggled with acne my whole life from age 10 and up. I tried everything I possibly could...Proactive, Clean and Clear, Dermicia, Differin, you name it its been on my face. As you can see I have tried a wide variety of things that seemed to do nothing but fail or damage my skin and give me no hope for pretty, glowing skin. Lately, my skin has really been making me feel very insecure which is not who I am, I try to cover my acne with make up only to fail and I avoid looking directly at people to try and hide my face. Until two Saturdays ago, that was my story. But, now I am ready for a new chapter in my skin story. Why the sudden change? Well, let me tell you, it was a Monday afternoon when my mom comes and tells me we are going to go see her best friend Tracy Gustin. She says to me, Tracy is an Esthetician and she wants to help you and figure out what we can do for your skin. I never in my whole life have been so excited for a Saturday ever! All week I am on edge waiting to go. I feel like their is hope. Finally, Saturday, I hurry my mom out the door and we are on our way. We arrive at the salon and as soon as i walk in the door, i know i am going to like this place..the warm cozy atmosphere, the nice people, and the aroma of pumpkin spice candles fill the air. We enter a quaint relaxing room that i will never forget! After all the treatments that Tracy performs are complete, I look in the mirror and all i can do is say thank you thank you thank you THANK you!!! I can only think to myself that this cant be my skin....no, this has to be a joke! It is no longer red and spotty, no more ugly acne and obvious scars. My skin feels fresh, clean, tight, glowing, pretty, natural, amazing and the list goes on. I couldn't be more happy.... so I thought. I, at this point, don't think that i could be more pleased...until i hear her say come back next Saturday. So, I went in the following Saturday for a second treatment with her. That day after my second treatment, my skin looked amazing, perfect. The next day I noticed some breaking out and I got a little discouraged. But, day three it was ALL GONE! Day four, STILL gone all through the next Saturday. I walked in that next Saturday to Sanctuary with clear skin and my head held high and said, I am ready for my treatments again. So, my "lifesaver" did her magic on me again. I just can't say thank you enough. It's like I am not looking at the same person AT ALL. Not in a million years would I ever think my skin would look this amazing, going from a face full of acne to virtually clear skin in ONE WEEK! It's the best feeling in the world. I could never repay Tracy in any way, shape or form. After six years of struggling with acne its gone in one week. Anyone who struggles with acne knows what I am talking about..how dirty and crummy you feel. Whether you have teenage acne or adult acne, either way, it's hard to deal with. Tracy changed my life now let her change yours... Abby P.

I always love to share a great experience...so today i went to see Tracy Dawn Lammers Gustin with Sancutary Aesthetics. Not only is she the sweetest thing ever...she did an AMAZING job with my facial! I plan to see her on a regular basis to keep my face fresh & youthful I encourage you to contact her if you need services for your skin/hair/make up!! Outstanding!
Brandi Wisdom

Tracy, you are always so wonderful. I love what you do, you always seem to know what my skin is needing! You love what you do and it shows!!
Julie Hansen

Thank you for taking such great care of my friends and I yesterday! You are an amazing hostess! My skin is like satin today! I am so picky about my eyebrows and you made them look perfect. We will be back soon!
Jen Schmidt
Exposed! All "Natural" with an amazing glow thanks to the best facial EVER by Tracy Dawn Gustin. I swear she took 10 years off my face! I highly recommend her services!
Elaina Huffman